Tobacco-Free Delaware County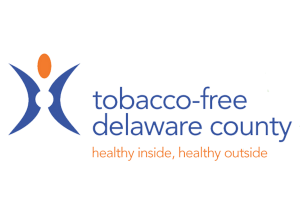 Our vision: Delaware County is a model tobacco-free community.
Our focus includes:
Provide prevention, education & cessation initiatives to the community
Assist tobacco users in finding FREE resources to help them quit
Build partnerships with businesses, community members and schools
Promotion of smoke-free and tobacco-free public places, both indoor and outdoor
The Tobacco-Free Delaware County Coalition was founded in 1996. The focus of the coalition is to reduce the use of tobacco products through prevention and cessation. Because tobacco use is the number one cause of preventable death in the United States each year, the coalition's efforts are to help community members live healthier lives by reducing tobacco use and exposure to secondhand smoke. The coalition is comprised of nurses, doctors, American Cancer Society, American Lung Association, agencies, organizations and citizens.
Our coalition is made up of local community members who have an interest in promoting a healthy environment through tobacco education, prevention and cessation. We're inviting other area businesses and community members to join our group and help make Delaware County a healthier place to live!