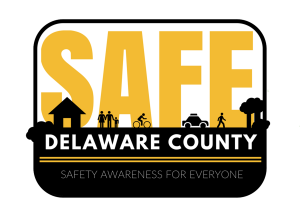 Purpose
The purpose of this coalition is to provide injury prevention awareness programs related to traffic safety and child safety. The support for these two programs comes from the Safe Communities grant from the Ohio Department of Public Safety, and the Safe Kids Worldwide grant program.
Mission
The mission of SAFE (Safety Awareness For Everyone), Delaware County, is to serve as a countywide network that joins community partners, maximizes resources and provides leadership to prevent injury and fatalities in Delaware County.
Meeting information
The coalition meets quarterly at Mt. Carmel Fitness Center, 7100 Graphics Way, Lewis Center, OH, from 8:30 a.m.-10 a.m, on these dates:
Thursday, May 16
Thursday, Aug. 15
Thursday, Nov. 21
Special events follow some of these meetings.
The SAFE Delaware County Coalition subcommittees meet as needed:
Fatal Crash Data Review Committee (by invitation)
Mature Driver Safety Committee
Active Transportation Committee
Child Passenger Safety Committee
Event Planning Committee
Commercial Driver Safety Task Force
Railroad Safety Task Force
Teen Driver Parent Task Force
Download pdf of Steps to a SAFE Teen Driver