DELAWARE, Oh. – In the next several weeks, nearly 1,500 adults age 55 and older who live in Delaware County will be receiving a health survey by m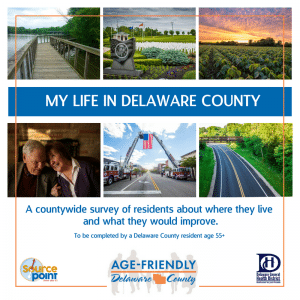 ail through a partnership between SourcePoint and the Delaware General Health District.
The Delaware General Health District collaborated with many county partners to create a unique assessment tool which will ask residents about where they live and what they would improve. Residents age 55 and older will be randomly selected to participate.
The anonymous survey asks participants to answer questions about outdoor spaces and buildings, transportation, housing, community engagement and participation, communication and information, and community and health services. Answers will create a snapshot of the health and well-being of Delaware County adults age 55 and older. The results will guide many public and private agencies in their program planning over the next several years by identifying key strengths and weaknesses that exist in Delaware County for aging adults.
The Health District asks residents who receive this health survey to please complete it and send it back as soon as possible. Survey answers are anonymous and confidential. The survey is funded by SourcePoint and the Delaware General Health District.
The Age-Friendly Delaware County Project is a collaborative effort led by SourcePoint involving many organizational partners and community members working together to improve life in Delaware County for aging adults.
For more information about this survey please contact Abby Crisp by email at acrisp@delawarehealth.org or by calling 740-203-2030.
Last Updated on July 24, 2018